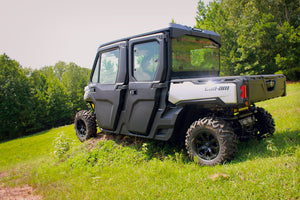 Hoppe Industries Releases Audio Shade for Can-Am Defender MAX UTVs
TROUP—Powersports accessory manufacturer Hoppe Industries has announced the newest addition to its off-road product offerings: The Audio Shade UTV stereo top, now available for Can-Am® Defender MAX models.
Following the Audio Shade for the Maverick X3 and the Audio Mini for Defender models, this newest Audio Shade marks the company's third product for Can-Am® models. However, this Audio Shade also offers a new experience for off-road audiophiles.
"In the spirit of the ridiculous year that is 2020, we wanted to create a next-level product," said Hoppe's J.D. Vey. "On this model, we have a new option for two 10-inch subs. It's amazing. It's hard to listen to it and not have a smile on your face."
In line with all of Hoppe's off-road products, the new Audio Shade features the complete package of Kicker® audio components, Hoppe's signature build quality, and compatibility with all two-row Defender MAX models—2017 to current.
"It integrates really well," said Vey. "It fits with factory doors, tilt-out windshield and wiper, back glass, and your other OEM components." Customers can look forward to a streamlined installation with a simple harness designed for a true plug-and-play experience.
Customers can choose between either four or eight 6.5-inch Kicker® PS-Series speakers for this Audio Shade. Additionally, customers can upgrade with a 10-inch Kicker® CompRT subwoofer with either a four- or eight-speaker package, or two subwoofers with an eight-speaker package.
Hoppe continues to expand both its Audio Shade and Audio Mini lines for other popular UTVs in the market. Development for the single-row Can-Am® Defender and the Kawasaki® Mule Pro are currently underway. Release news will be published on Hoppe's website and across social media so customers should follow online to get the latest from the company.
The Hoppe Audio Shade for Can-Am® Defender MAX models is now available for purchase starting at $3,750 through Hoppe online, Authorized Motor Trike Dealers, Parts Unlimited Dealers, and Western Power Sports Dealers.
https://hoppeindustries.com/products/hoppe-audio-shade-for-defender-max
Fitment
2017-Current Defender MAX (all versions)
Speaker Configuration
| | | | | | |
| --- | --- | --- | --- | --- | --- |
| Audio Shade Model: | Hoppe Part #: | Parts Unlimited #: | WPS #: | Speaker Count: | Subwoofer Count: |
| 4CAMDEF-40 | HPKT-0086 | 4405-0754 | 63-5611 | 4 | 0 |
| 4CAMDEF-41 | HPKT-0087 | 4405-0754 | 63-5612 | 4 | 1 |
| 4CAMDEF-81 | HPKT-0088 | 4405-0754 | 63-5613 | 8 | 1 |
| 4CAMDEF-82 | HPKT-0095 | 4405-0754 | 63-5614 | 8 | 2 |
Media Control Center
Kicker®

 

KMC2 multimedia gauge-style marine receiver with Bluetooth®
AM/FM digital tuner (LED lights may cause signal interference when activated with AM/FM tuner)
USB input & USB charging
AUX input (headphone jack)
Speakers
Four (4) or eight (8) Kicker®

 

6.5" PS-Series speakers
Titanium tweeters
Neodymium magnets for high power with low weight
Lightweight, weather resistant polymer baskets
Waterproof suspension system
Tuned to sound great while driving/riding
Subwoofers (on applicable models)
One (1) or two (2) Kicker®

 

CompRT 10" 400 W, Dual voice coils
Ultra-thin design
Extra-large surround roll for deeper, smoother bass
Signature stitching on surround
Amps
Kicker®

 

PX-Series amplifiers
300 watt — 4 x 75 watt full-range amplifier standard
500 watt — mono subwoofer amplifier
Extremely small footprint
Minimal power draw
Weather resistant (IP66 rating)
Active crossover
Light Features
Front 31" 150W sleek, high output single row LED spot/floodlight bar
Rear 11" 50W sleek, high output single row LED spot/floodlight bar
(4) RGB LED interior lights
Phone app-controlled (iPhone®

 

& Android®

 

compatible)
Lights dance to the beat of your music
Backlit switches for light bars & interior lights for control at night
Design Features
Fiberglass composite shell styled to match Defender MAX body lines
Infused resin process layered with directional fiber orientation for ultimate rigidity and strength
Rigid design improves sound quality for the cleanest bass and crystal-clear highs
Strengthened edges to protect from tree branch strikes
All cage clamp fasteners hidden on top side for smooth yet aggressive design
Zipper pockets safely secure your phone on the most rugged trails
Hoppe liner coating for durable, all-weather protection
Product Photos
For high-resolution photos, please contact Media Relations below.
ABOUT HOPPE
Originally founded by John Hoppe in Kenosha, WI, Hoppe Industries joined the Motor Trike family of companies in 2018. Now located in Troup, TX, Hoppe Industries joins Motor Trike in manufacturing accessories for a variety of power sports vehicles with over 25 years of industry expertise. Visit hoppeindustries.com.
CONTACT
Media Relations
22667 FM 15 Box 611
Troup, TX 75789
marketing@hoppeindustries.com
---